In only a few weeks we anticipate Gateshead CCG will be successfully 'authorised' by the NHS Commissioning Board, from which point we will officially take on our commissioning responsibilities.
When we began our development towards being an authorised CCG we did a lot of work to consult about what our vision for Gateshead should be. We now have our vision in place which sets out how we will achieve our mission of Working together to improve the health of Gateshead.
Our vision is to:
Care for people in a seamless way that is not restricted by either organisational or professional boundaries
Ensure commissioning is clinically led and driven by patient and carer involvement
Improve the quality of health services and ensure the people of Gateshead live longer, happier and healthier lives
To explain our vision we have put together a few short videos which are now on our website here and outlined below:
Challenges and vision - The challenges facing our CCG in Gateshead and our unique geography, history and culture. Our vision and why it is so important to the organisation.
Relationships - Learn about our relationships and structures and how they will enable us to achieve our goals.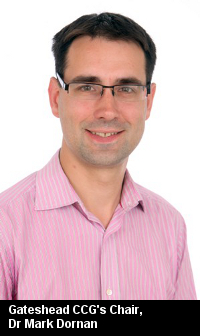 Practices - Learn about our practices and how they are working together to improve local services.
Patients - Find out about how we are putting patients at the heart of the organisation and developing many ways to get patients' views.
Progress
- Learn about some of the progress we have made as a CCG so far and some of our successes in improving services for the people of Gateshead.
I would encourage everyone to watch at least the first video as this explains the thinking behind much of what we are doing for the people of Gateshead. We hope these may help you think of ways to improve health in Gateshead and we would welcome your ideas and feedback, please click here to find out how.